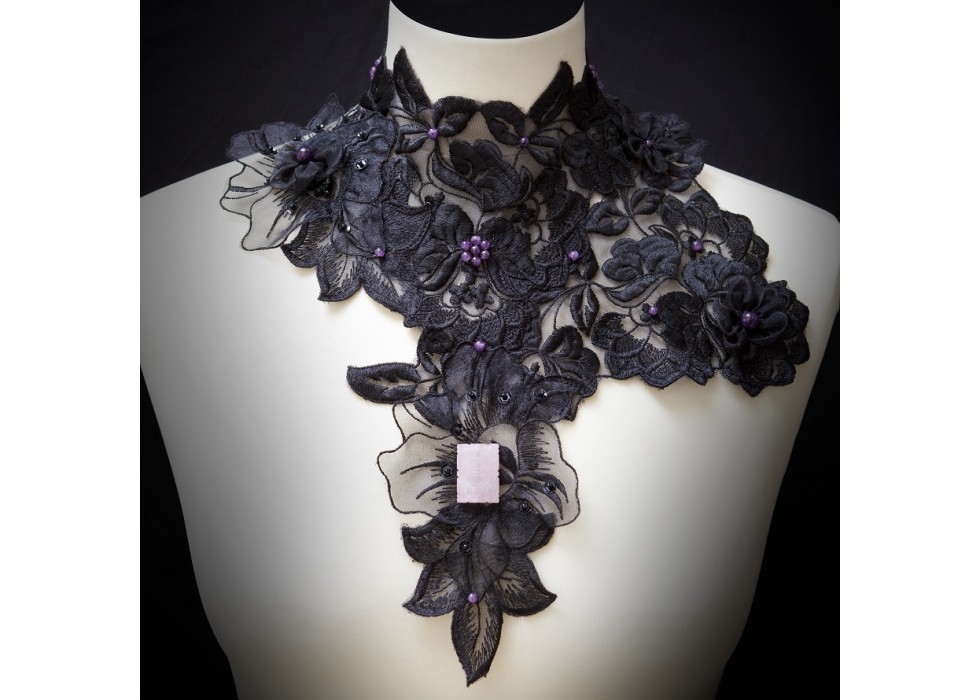 Studded with amethyst pearls and small flowers in organza fabric, this refined piece offers a glimpse into the mysteries of China and scents from another world. In the center, the the finely sculpted pink quartz symbol means "long life" and will...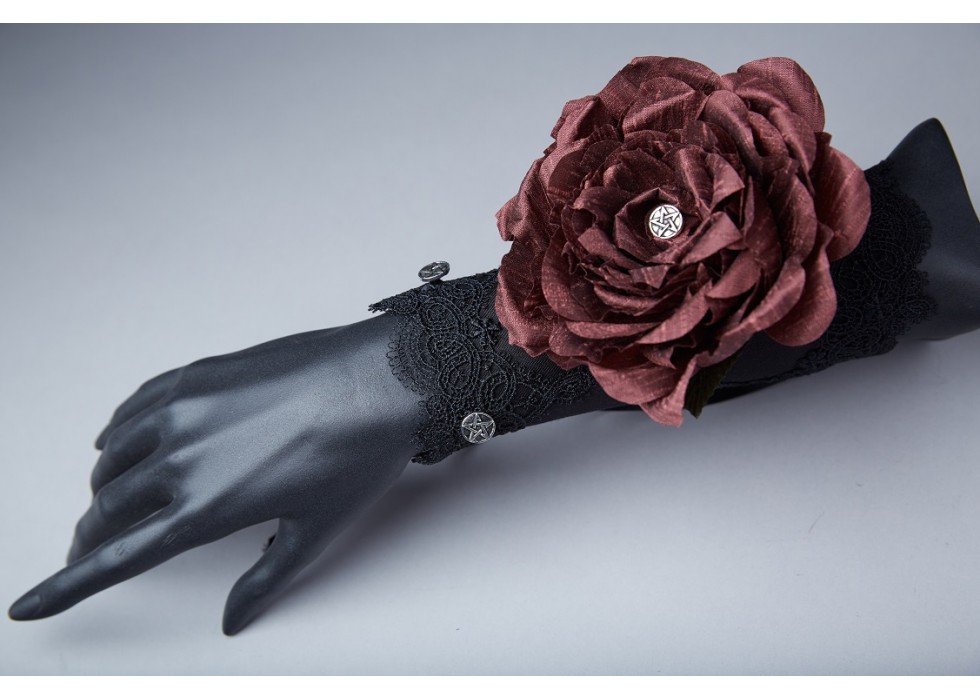 The Rose Étoilée "star-studded" cuff-bracelet incarnates a flower's inherent spellbinding beauty. Made with black silk and decorated with lace medallions, this stylish, highly-fashionable, feminine, and poetic bracelet includes a burgundy red...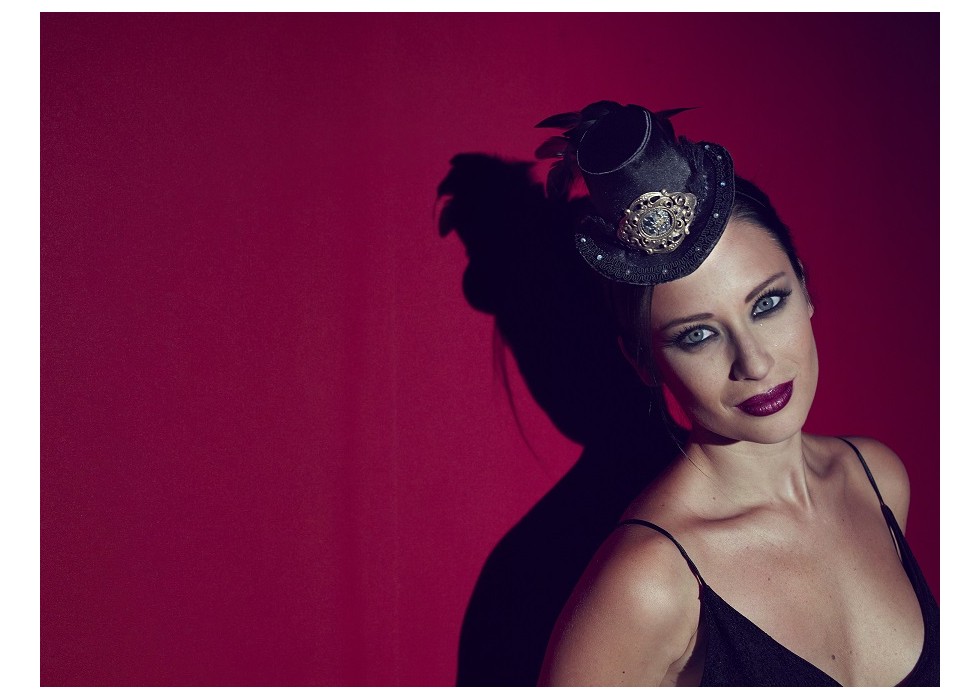 This classic "Tempus Fugit Victorian Hat" is made with black satin and includes a black band decorated with small, brilliantly shimmering labradorite pearls. The tulle pleated trim features flowered guipure lace. In the center of the copper...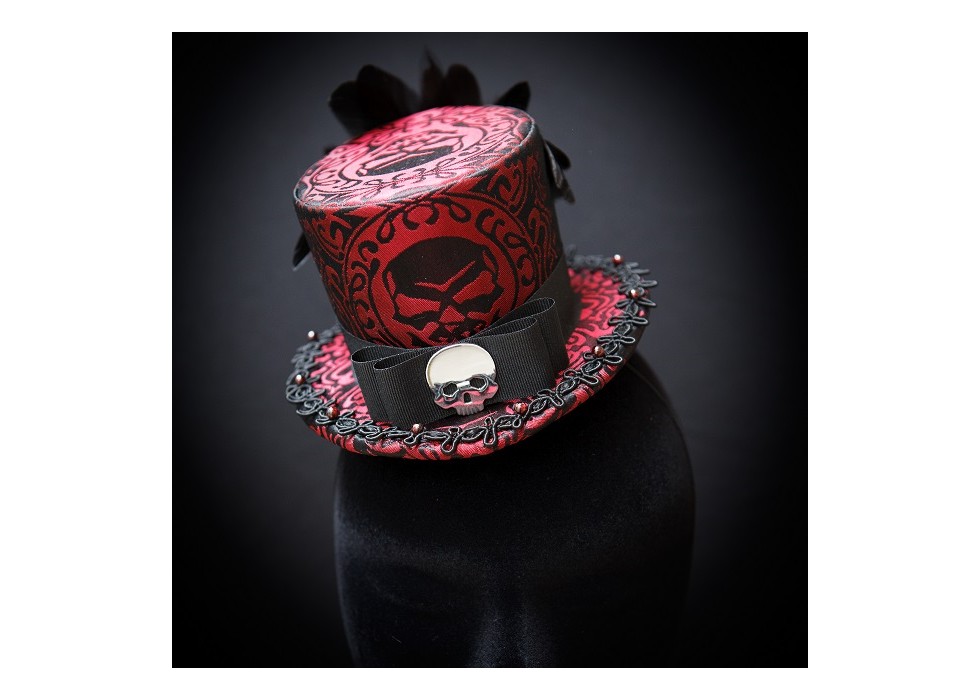 The mini "Red Curiosity" brocade volute top hat decorated with black skulls-and-crossbones epitomizes the cabinet-of-curiosities spirit and the fantastic and original objects found inside. It represents elegance with a rock'n'roll soul! A black...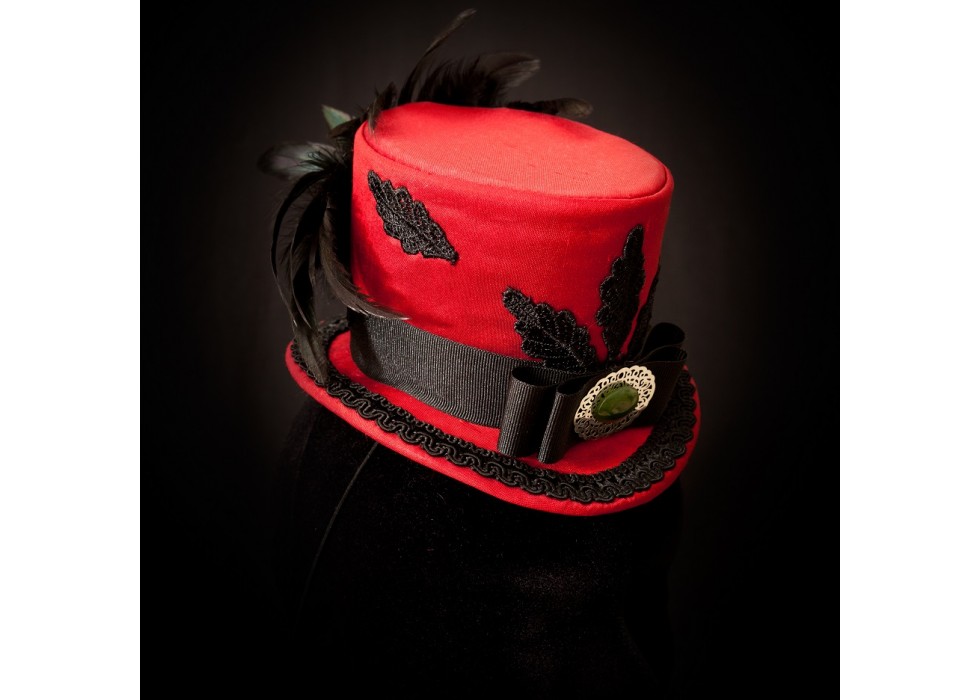 This Cabaret silk mini top hat, embellished with black lace oak leaves, is crowned with a black ribbon and knot decorated with a 925 silver filigree emblem with a jade cabochon. On the back of the hat, a jade pearl sits in the nook of a satin rose...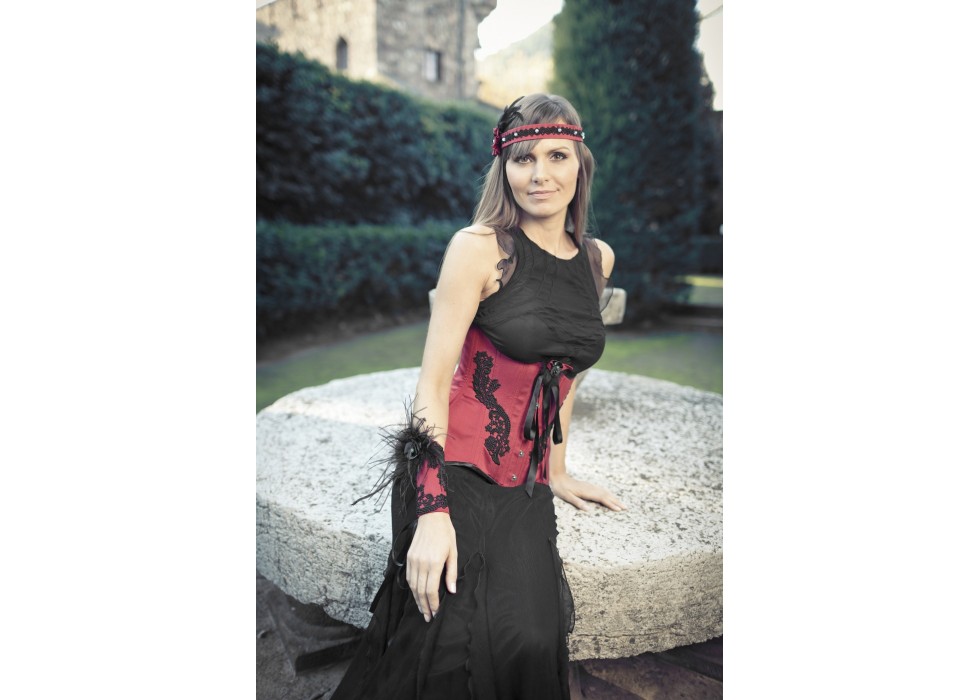 The Cabaret bracelet is made with RED SILK and black-flowered guipure LACE. At the center of a bouquet of ostrich FEATHERS rests a black-satin rose with a JADE pearl. It makes the perfect match with a Cabaret body corset and neck corset-collar....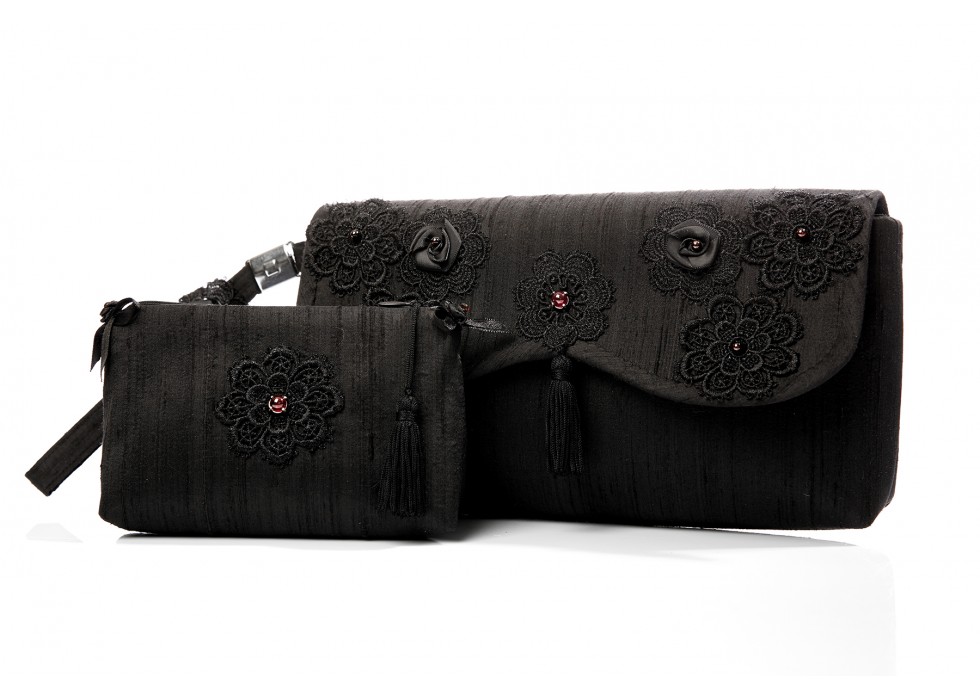 This Dupioni silk "Black Orchid" handbag (an ensemble with matching pouch) embodies luxury and elegance in all their splendor. The flap's raised curves are designed with black lace rosettes and roses with garnet pearls in the center. The center...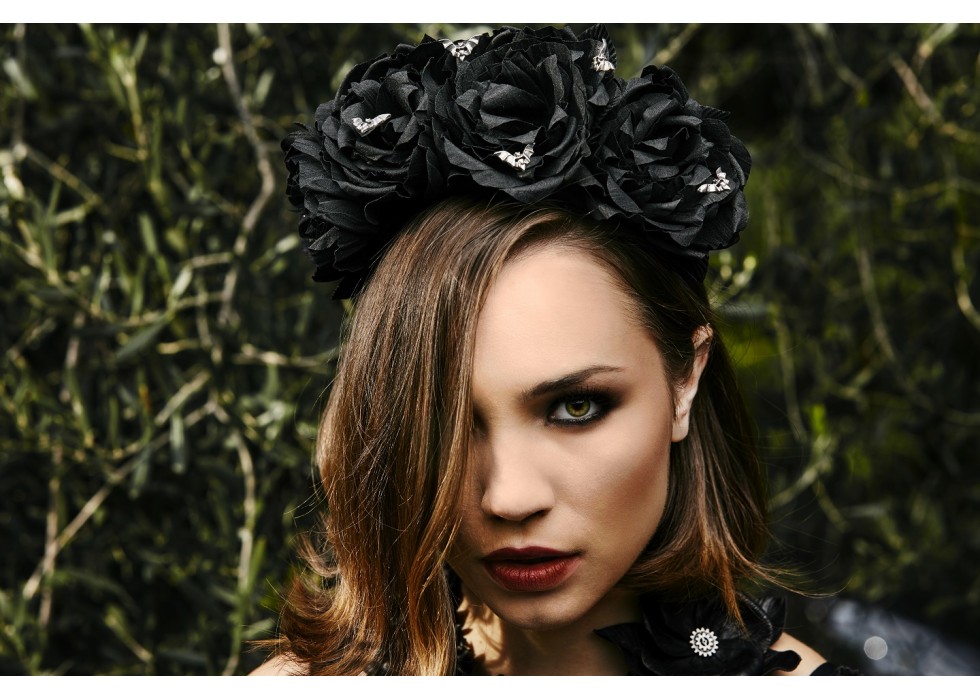 Between dark romanticism, rock and roll, and femme fatale, this Black Rose crown is a majestic creation. It consists of a headband covered with a black satin ribbon and a silk base with a black braided trim. This crown is decorated with 4 black...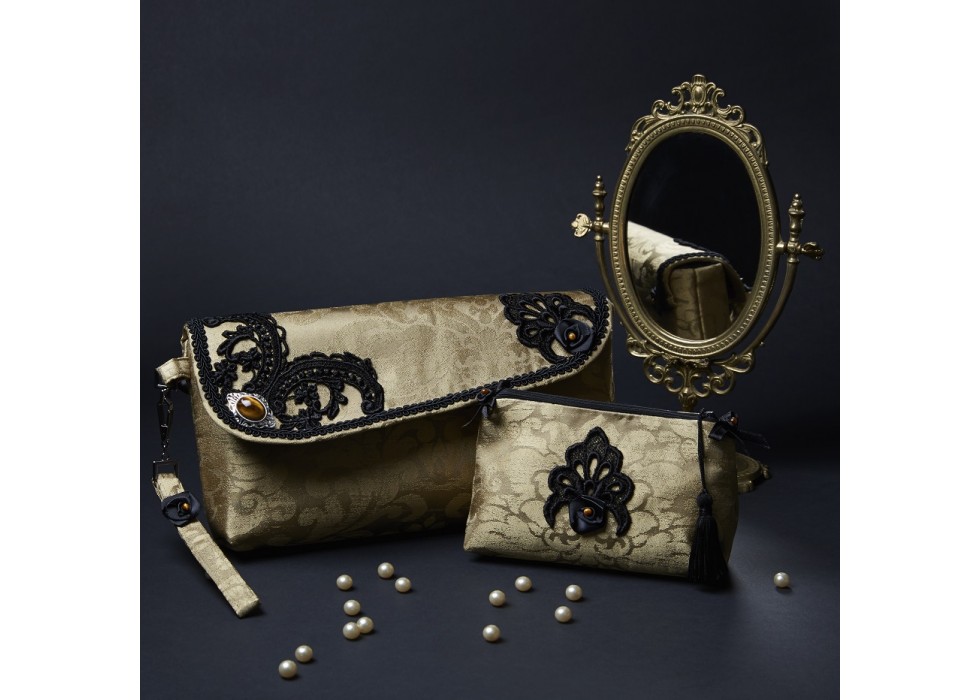 This "Eclat d'Or" (gold) evening handbag (an ensemble with matching pouch) is made with brocade silk and designed with a luxurious gold baroque motif that will dazzle everyone. This ensemble is the perfect accessory to the corset, hat, or...